✅Detailed recipe: (The all-purpose dough recipe on the homepage can make about 9 pieces)200g high gluten flourLow gluten flour 50gMilk powder 10gEgg liquid 25g🥚35g fine sugarSalt 3g🧂Milk 160g🥛7.5g fresh yeast (or 2.5g high-sugar tolerant dry yeast)25g butter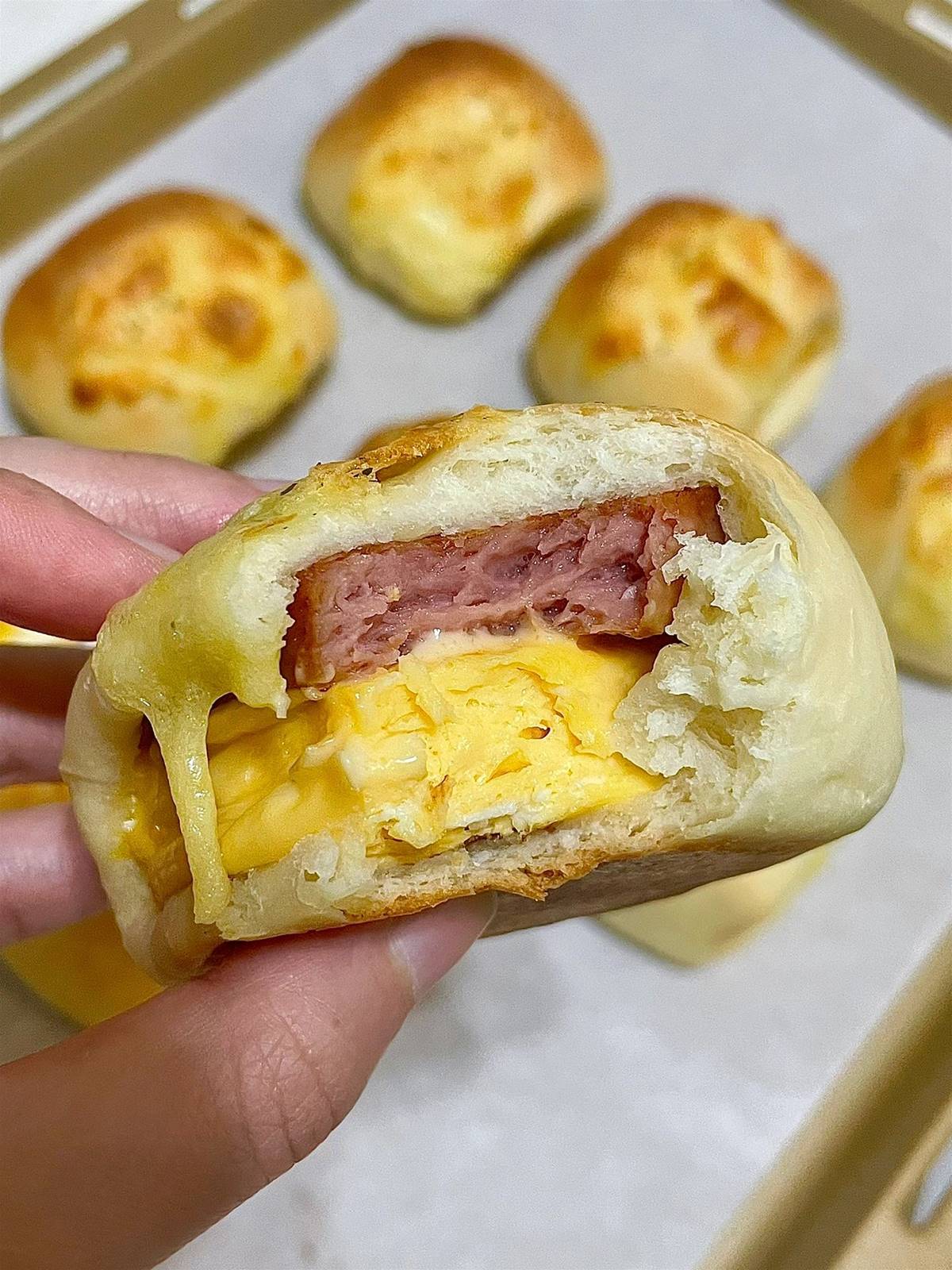 ✅Sandwich:Appropriate amount of luncheon meat | Appropriate amount of cheese slices | 6-8 eggs | Appropriate amount of milk | Appropriate amount of black pepper and salt
⭕️How to make:1⃣️Pour the ingredients except butter into the noodle pot, mix the ingredients into a dough in the 2nd setting of the chef's machine, then turn to the 5th setting to beat the dough until smooth, then turn to the 6th setting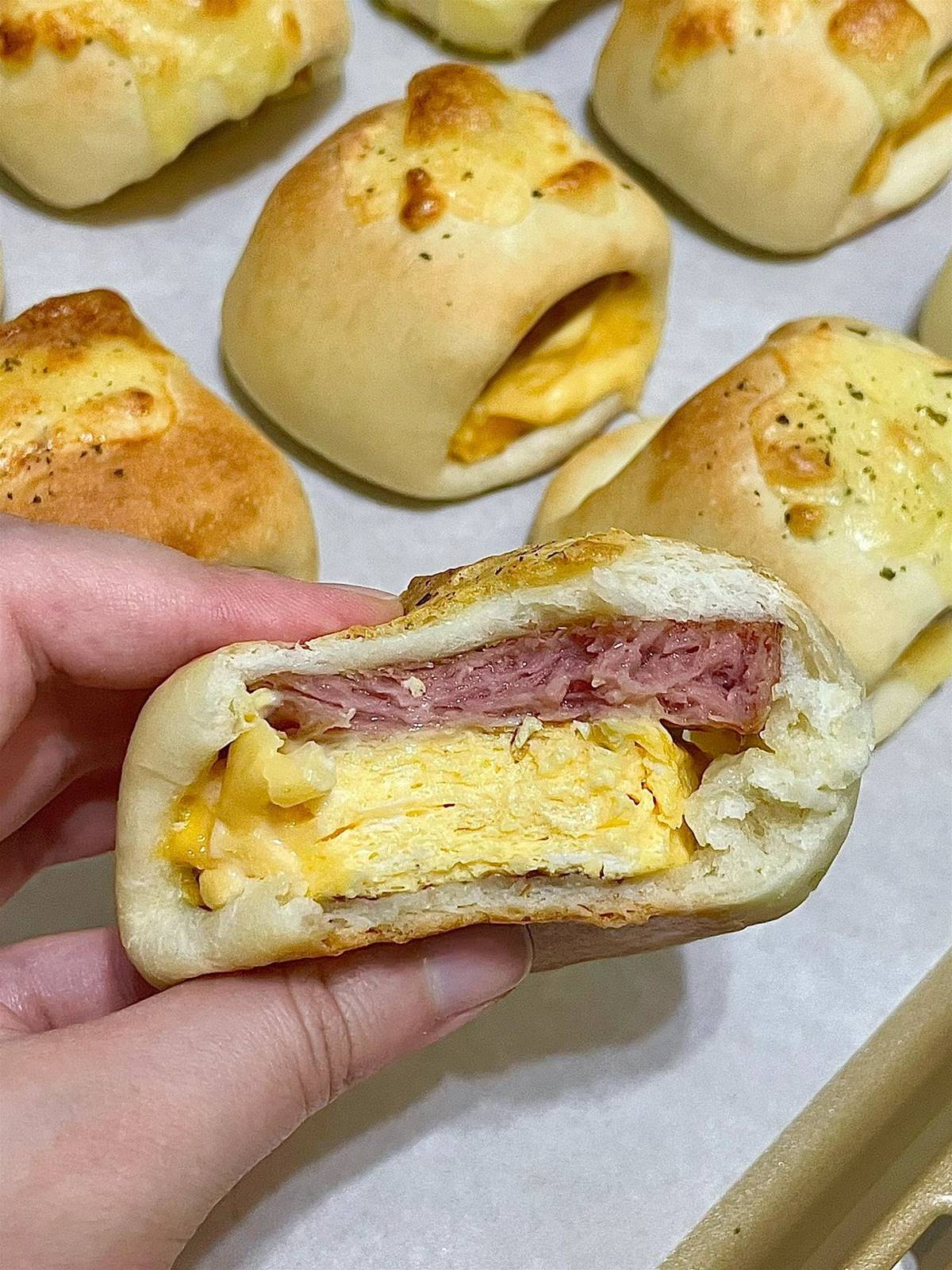 2⃣️ Beat until a jagged film can be pulled out, add softened butter, and beat at low speed for about 2 minutes. After the butter is completely blended, turn to high speed and beat for another 3-5 minutes (watch more by yourself) and beat until the gluten is fully expanded. , it can stretch out the tough film, and the puncture hole should be relatively smooth. Pay attention to controlling the surface temperature at about 26 degrees.3⃣️Take out the beaten dough and put it into a fermentation box or (it can be fermented at room temperature in hot weather) at 28 degrees for about 60 minutes until it doubles in size.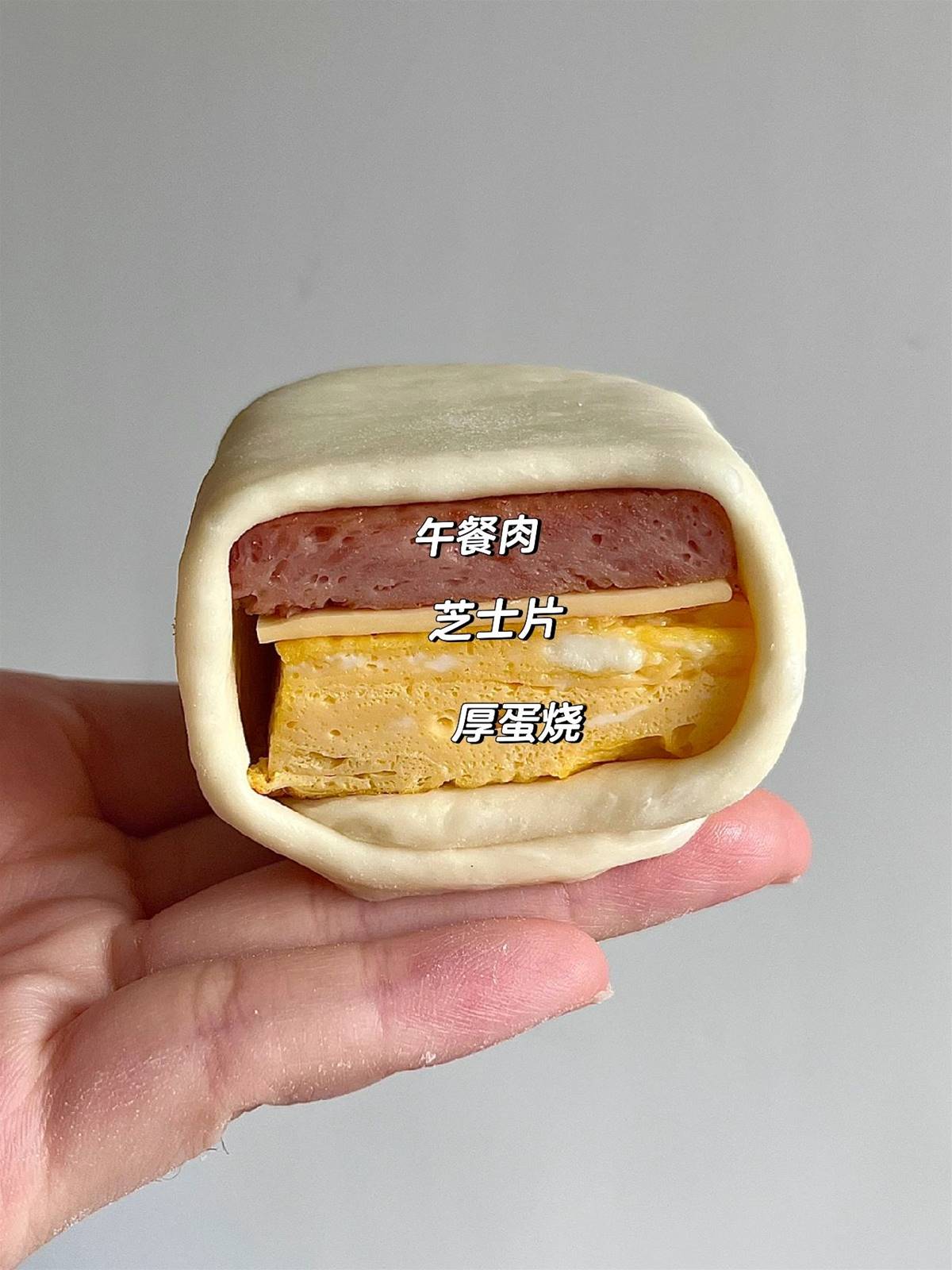 4⃣️While waiting for fermentation, you can make thick egg roast and luncheon meat. Add salt, black pepper, and milk to the eggs and stir evenly. Pour into the pan (on medium to low heat) in small portions and roll up until the thickness you like, and finally Fry on all sides and serve. Fry the luncheon meat on both sides until golden brown. Let all ingredients cool and set aside.▫️Assemble after cooling, cut the thick egg into the size of lunch meat, sandwich slices of cheese in the middle and set aside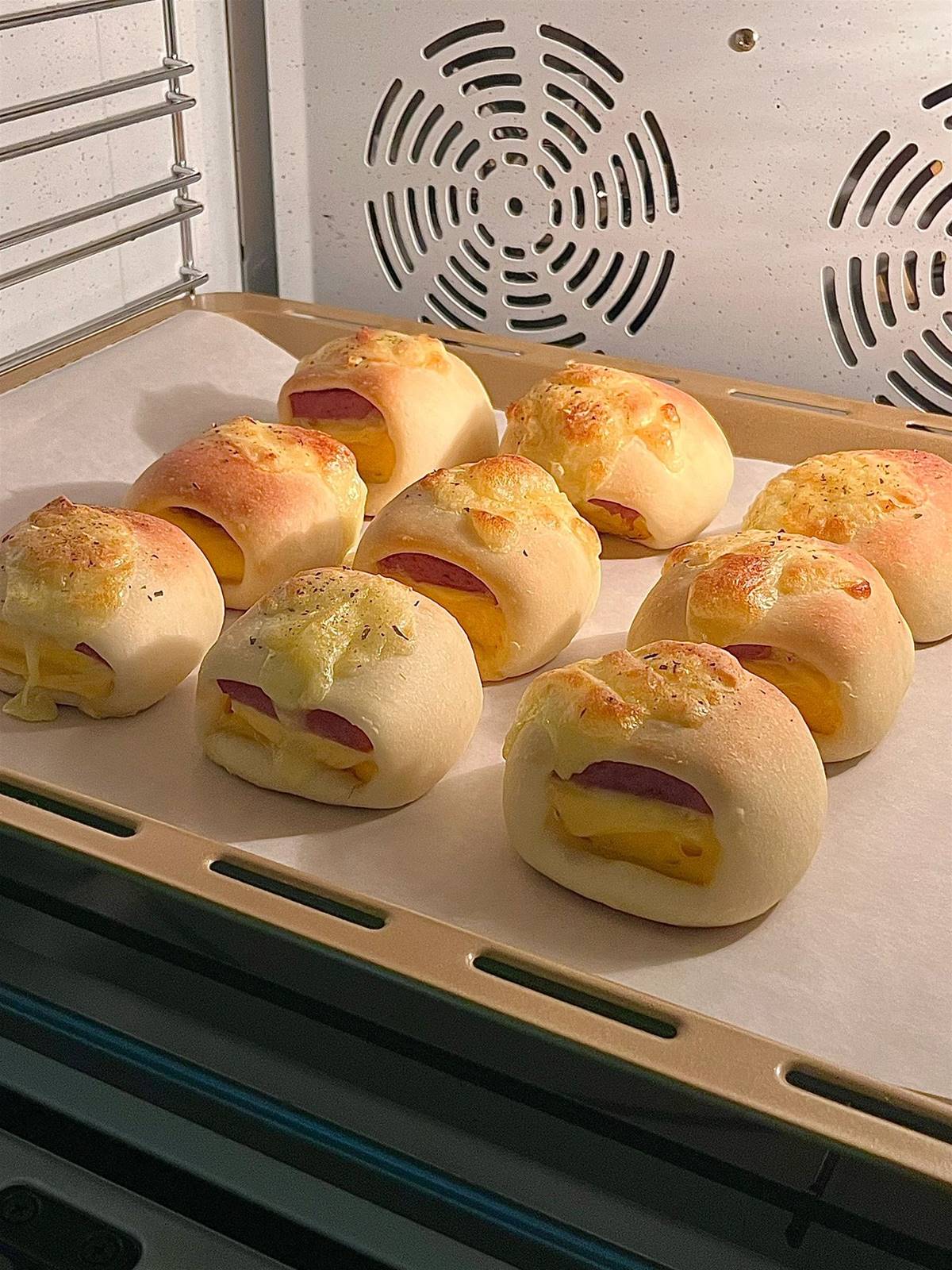 5⃣️Take out the fermented dough, divide it into 9-10 equal portions, roll into balls and place in the refrigerator to rest for 20 minutes.6⃣️Take out the relaxed dough, pat it gently to deflate, turn it over and fold it in half, pinch the edges tightly, and knead it into a 🥟 feeling, then roll it into a cylindrical shape. After all the dough is rolled, roll it out into a rectangular shape. Prepare it in advance. Wrap the sandwich in, fold the two sides toward the middle like a quilt, and pinch the closing edge slightly.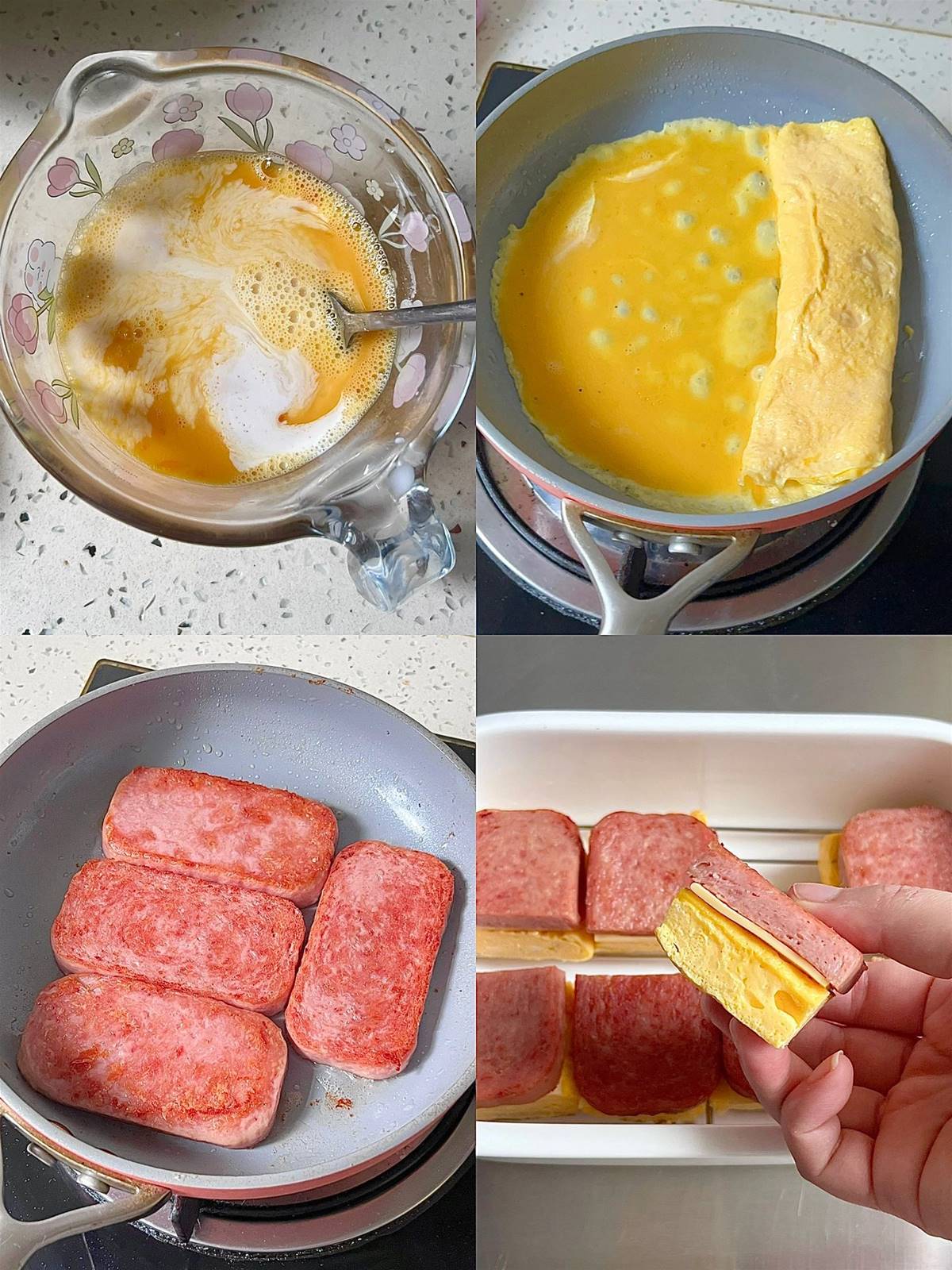 7⃣️After everything is done, put it into the fermentation box and ferment it at 35 degrees for about 40-50 minutes.8⃣️After the fermentation is completed, take it out and sprinkle some grated mozzarella cheese and parsley on the surface (if not, you can also sprinkle some sesame seeds). Preheat the oven in advance and bake at 180 degrees for 20-25 minutes (each oven has different temperaments, so please Actual situation prevails)