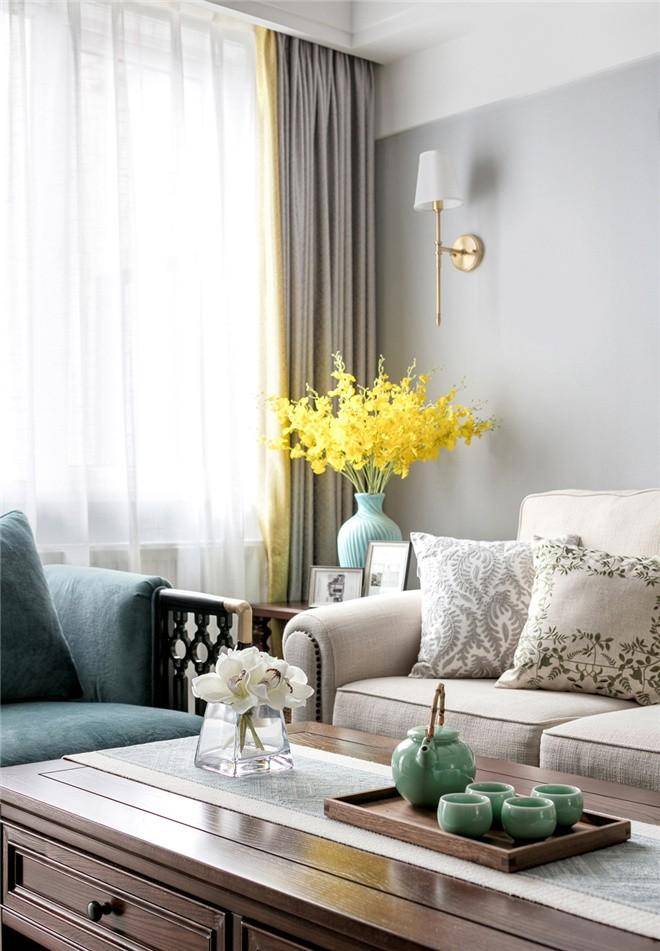 Entrance
After the renovation, the entrance hall is no longer the unobstructed layout of the original apartment, and the space has become independent and complete. The shoe cabinet not only plays a storage role, but also serves as a part of the partition between the entrance and the study.
In addition to the shoe cabinet, an elegant leather shoe-changing stool, a large full-length mirror and hooks are also prepared to complete the entrance function and improve living comfort. An abstract painting decorates the end of the line of sight, becoming the entrance scene.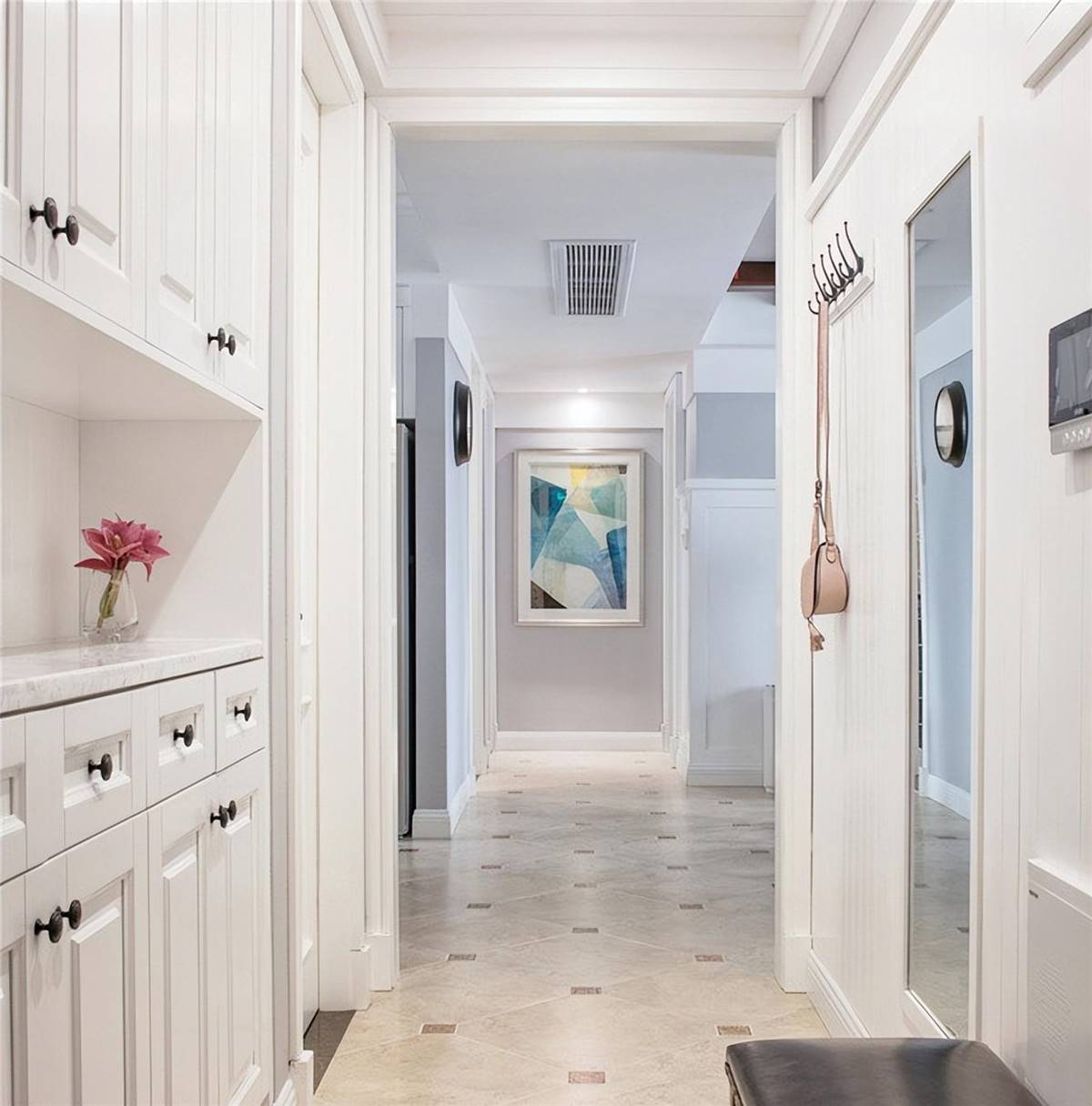 living room
The slightly American-style floor tiles extend from the entrance to the living room, with excellent texture and soft visuals. Paired with a coffee table and TV cabinet in heavy colors, the effect is not depressing. The design of the carpet is not only comfortable, but also makes the space partition clearer.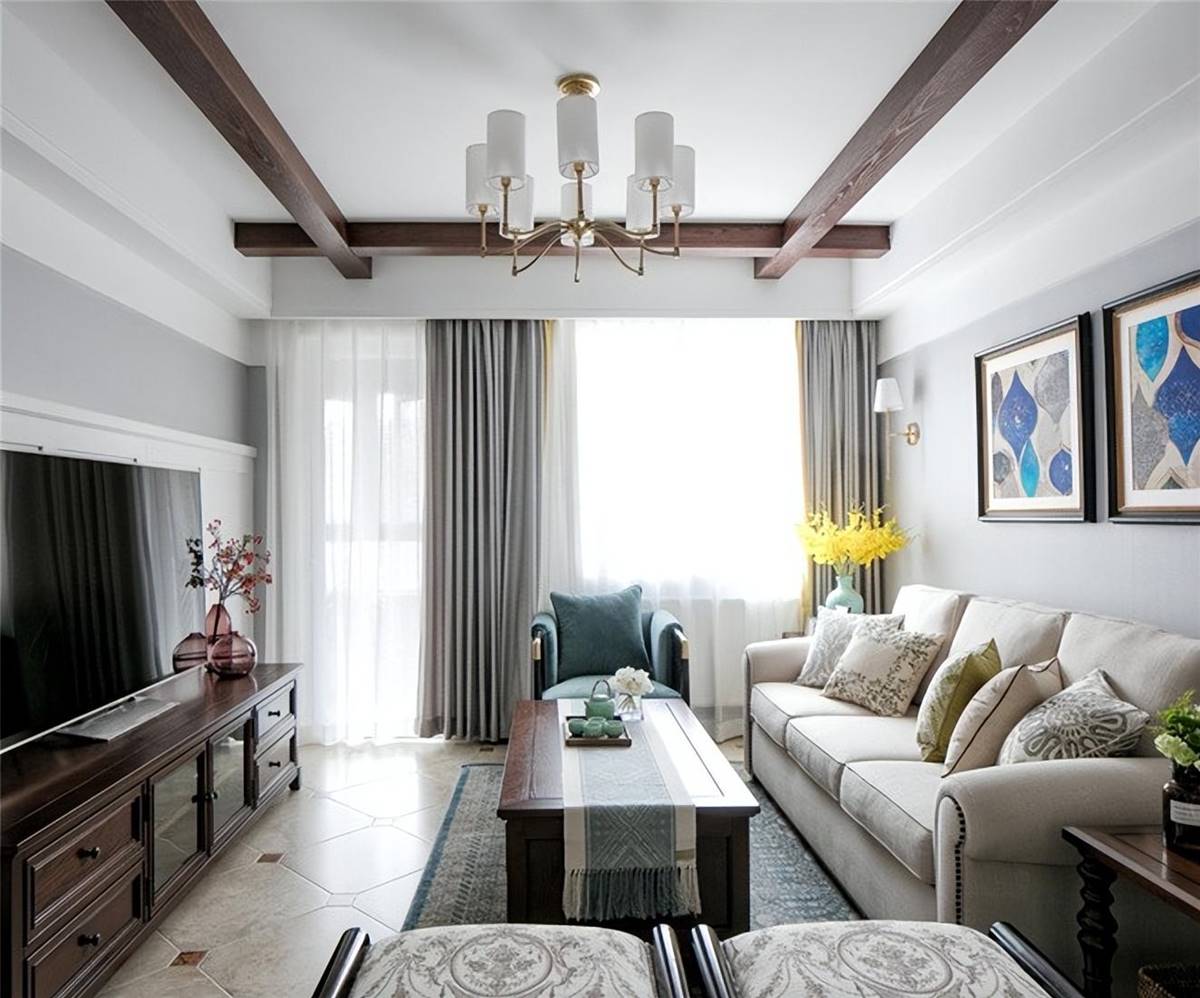 There is no complicated ceiling, and four dark wooden strips are used to create an interspersed design, which not only echoes the furniture but also enhances the sense of hierarchy. It is paired with an American-style chandelier design, which is simple and elegant, and very beautiful.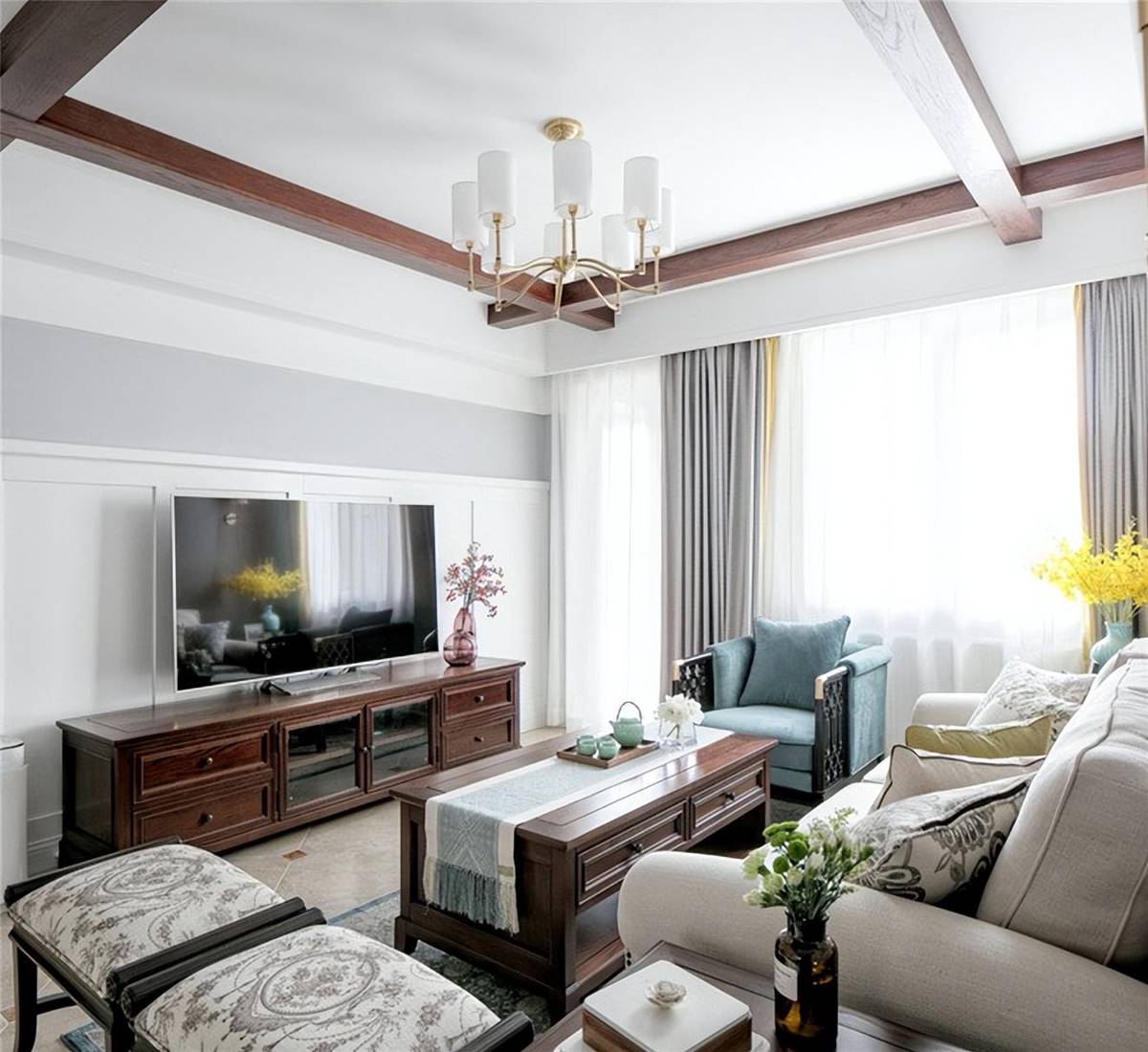 The TV wall is simply shaped, and a touch of light gray is added to create color gradations. It bids farewell to the monotony of the overall white color and adds a sense of design and elegance.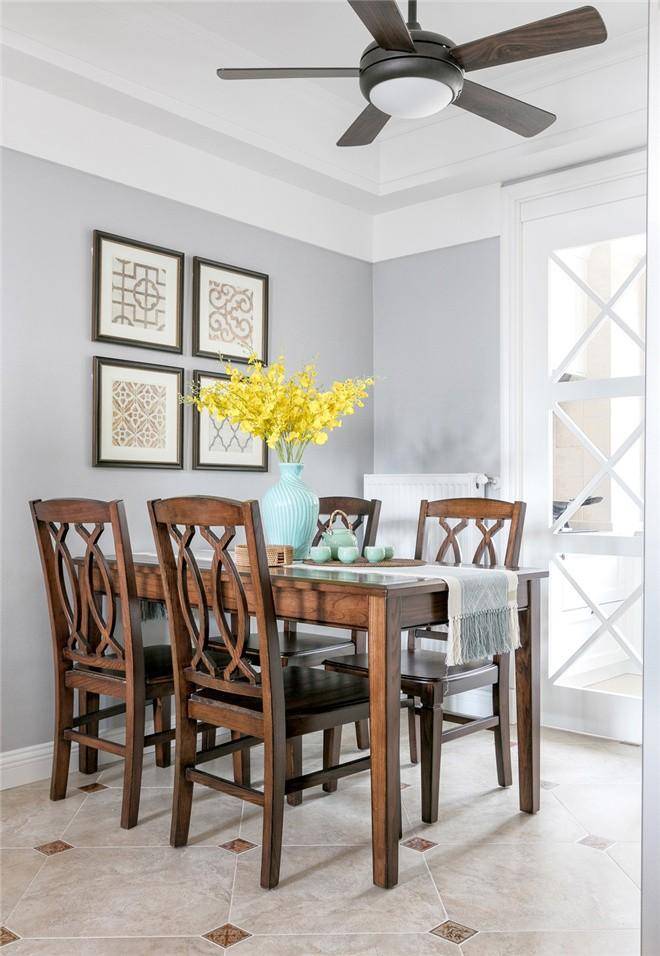 Dining room
The restaurant has a complete set of retro-style dining tables and chairs, as well as tea sets, which make the American style clearer. The light gray walls are high-end yet tasteful, and paired with four decorative paintings, the dining atmosphere is very pleasant.
Customized storage cabinets combine sideboards with electrical cabinets, which not only improves storage, but also allows for proper placement of large kitchen appliances. It is beautiful and practical.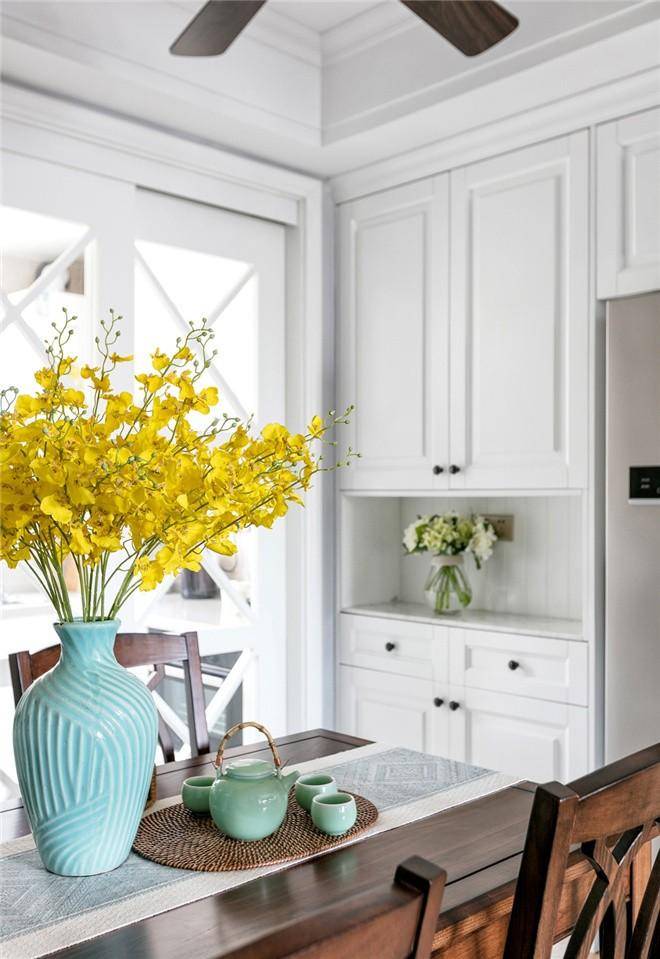 kitchen
The kitchen is still made of retro tiles, which are just right, not too cold, and daily cleaning is also very simple. The U-shaped kitchen layout greatly improves kitchen usage and storage levels. The wall cabinet design was canceled to avoid visual depression.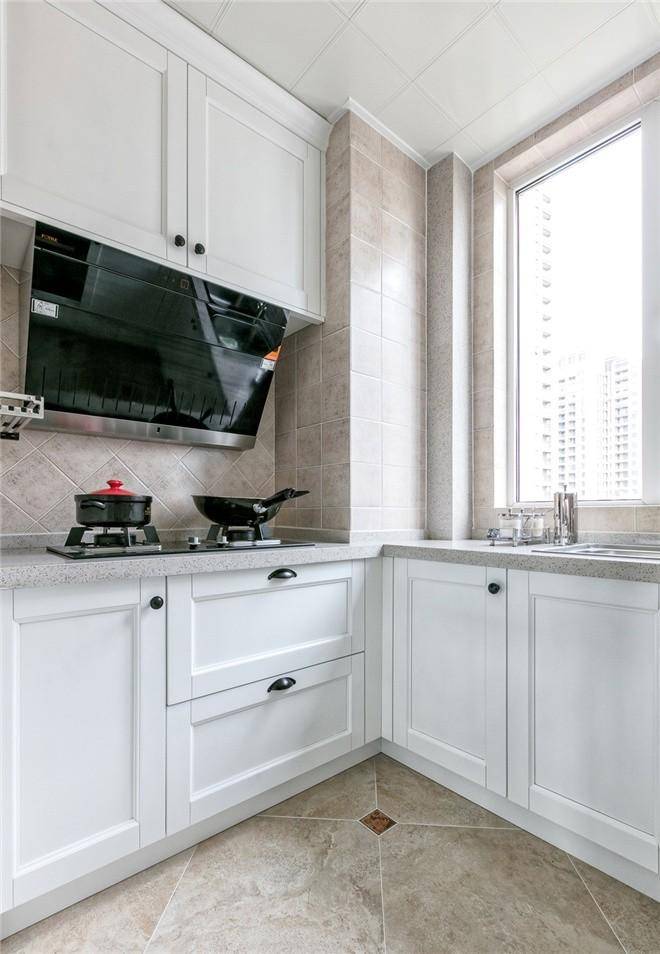 Master bedroom
The master bedroom adopts non-dazzling lighting design, which makes it appear warmer. The furniture and soft furnishings are well matched, with dark-colored beds and bedside tables paired with light-colored bedding and curtains, creating a sense of tranquility and warmth. The background wall is decorated with American-style wallpaper, which is okay.
The entire customized cabinet design combines storage with the TV wall, which not only improves the storage in the bedroom, but also leaves space for placing the TV. It is a very good design. Pure white cabinet doors, with round and curved door handle designs, look good.